Groundnut Sheller | Peanut Shelling Machine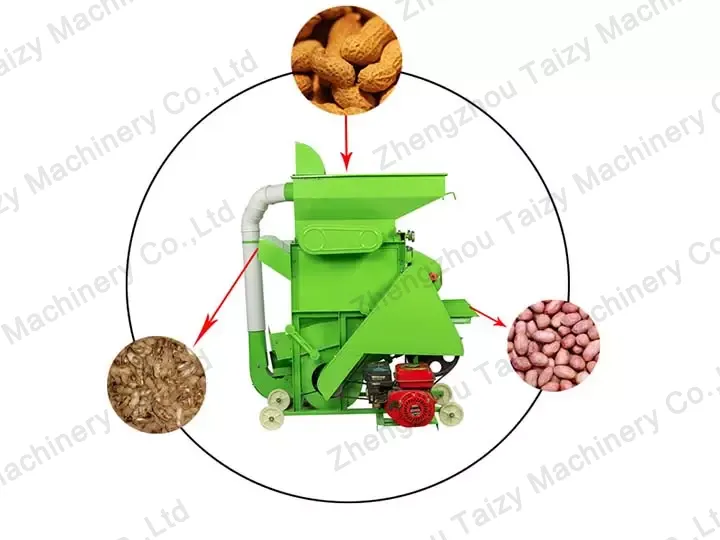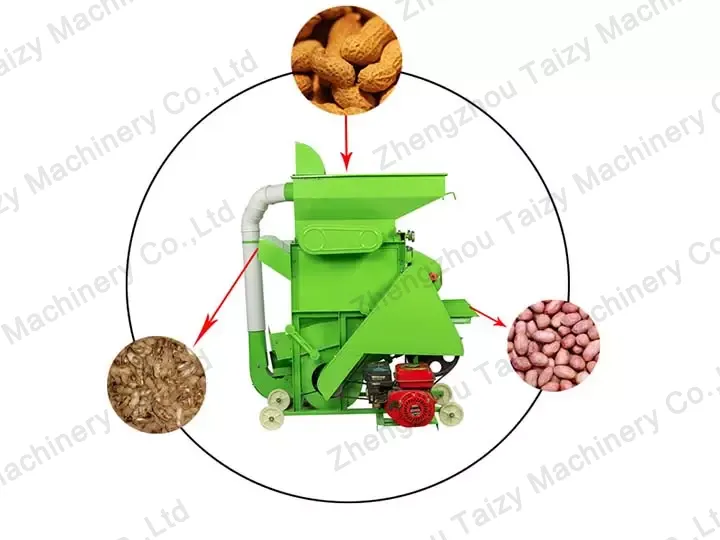 Groundnut sheller can effectively remove the shells of peanuts. With the help of a peanut shelling machine, the peeling rate is up to 98% or more. We all know that peanuts have a wide range of applications. The most common of them are making peanut butter, peanut oil, and peanut candy. Therefore, we can use peanut sheller machine in peanut butter production plants, oil extraction plants, and food processing plants.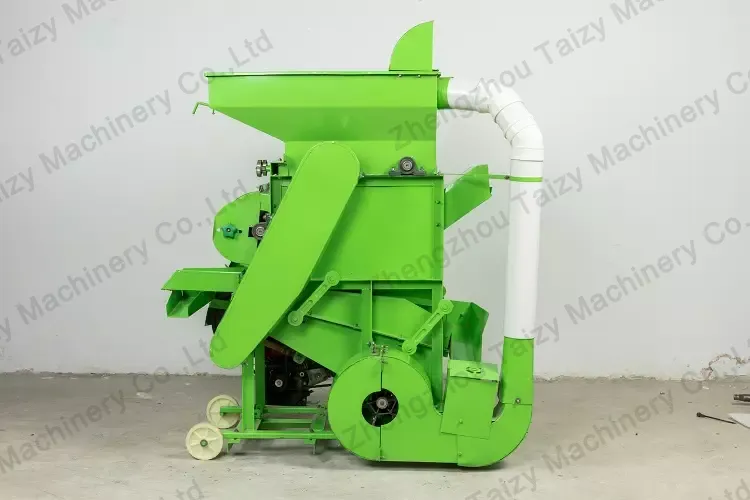 Working principle of groundnut sheller
After the peanut shelling machine starts, the double drums inside the machine will squeeze and crush the peanut shells. Under the repeated friction of the drums, the peanut shells are broken to leave the peanut kernel. At the same time, the screening system can separate the peanut kernels from the peanut shells. Unqualified peanuts will fall off to facilitate the second shelling until the whole batch of peanuts are all shelled. Then the wind conveying system will blow away the residue of peanut shells. And the peanut kernel will come out from the discharge port.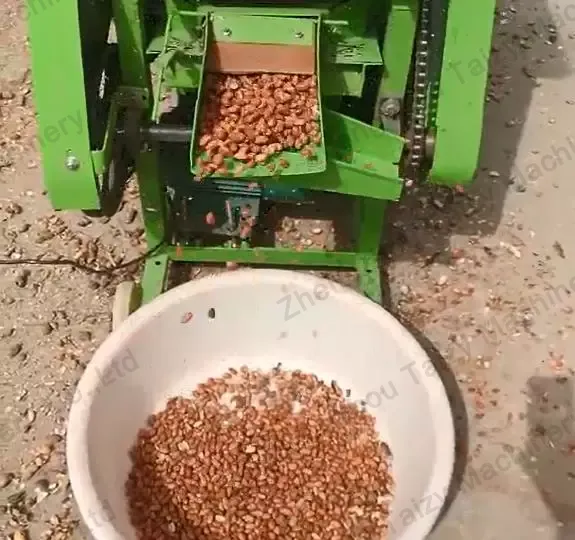 Automatic Peanut sheller machine design
Groundnut sheller is composed of a frame, double drums, rotor, fan, vibrating screen, and single-phase motor. Therefore, the machine has a shelling structure, screening structure, wind selection structure, and wind feeding structure.
Machine parameters
| | |
| --- | --- |
| Model | TBH-800 |
| Overall Dimension (mm) | 1330*750*1570 |
| Net Weight (kg) | 160 |
| Productivity | 600-800kg/h |
| Breakage Rate | ≤2.0% |
| Damage Rate | ≤3.0% |
| Shelling Rate | ≥98% |
| Power | 3kw, 220v, 50hz, copper motor |
| Function | Peanuts Shelling/Husking |
Video of peanut sheller
Advantages of Taizy groundnut sheller
Long service life. The machine is made of high-quality steel. Therefore, it has the characteristics of sturdiness and durability.
High shelling rate. The hulling rate of the Taizy peanut dehulling machine is above 98%. Compared with the same type of machine, it has a great advantage.
High efficiency. The machine can shell up to 800 kg of peanuts per hour.
High cleaning rate. The unique fan design can effectively separate peanut shells and peanut kernels. Peanut kernel is also cleaner.
Multiple options. We can configure electric motor, gasoline engine, and diesel engine according to your needs.
Wide application. Peanut shelling machine is widely used in peanut butter production plants, oil presses and food processing plants.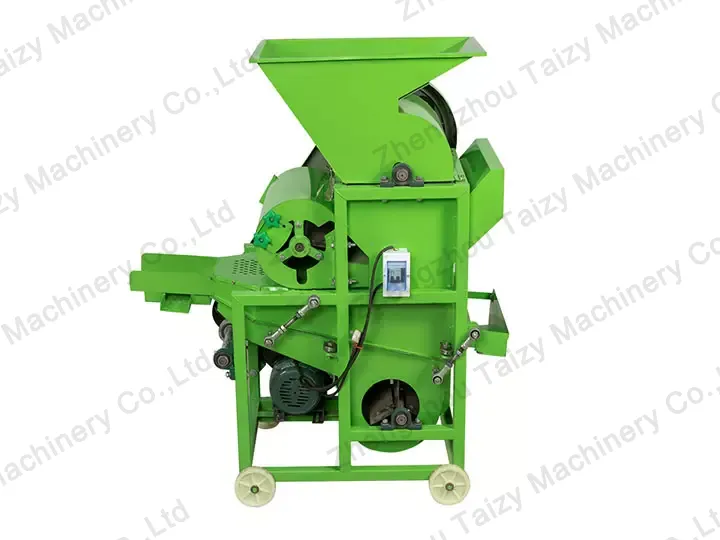 Types of groundnut sheller machine
According to the use of groundnut sheller can be divided into two categories: one is the peanut shelling machine for oil extraction, and the other is the peanut seed shelling machine. The different outputs can also be divided into different models, small groundnut shelling machine and large scale peanut sheller machine. Before buying, users need to determine their own needs for the machine. In terms of price, the price of the groundnut sheller machine for seed will be a little higher. Because peanut seed shelling machine shelled peanut kernel is used for peanut seeds. So the requirements for the peanut shelling equipment used are very high. And the requirements for the shelling rate, integrity rate, and breaking rate are also very high.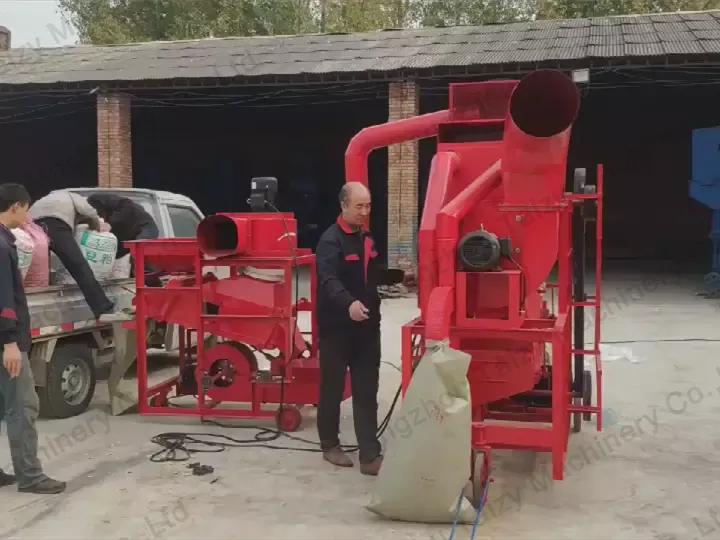 Where to buy peanut sheller?
As a professional groundnut sheller manufacturer. We not only provide peanut shelling machine, but also a series of machines such as peanut butter production line, peanut peeling machine, peanut butter machine, peanut brittle machine, and so on. Therefore, we have high professionalism and rich experience in peanut processing machines. If you are looking for a reliable peanut shelling machine supplier, we are a good choice for you. Besides, we can also provide you with customized services. If you need this machine, please feel free to contact us.